It's no secret that breakfast is the most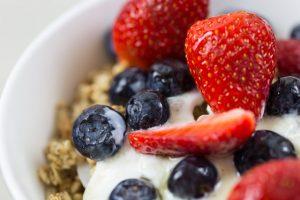 important meal of the day. It gives you the energy necessary to be the most effective throughout the day. But what do you do when your mouth is sore because your braces have been tightened? Skip breakfast?
Skipping breakfast is not the answer when your mouth is sore from your braces. Instead, try a few alternatives that are healthy and don't put any added stress on your teeth. Here are five breakfast ideas that won't interfere with your orthodontic treatment:
Smoothies.

Too sore to chew? No problem! Smoothies are a great way to get the nutrients you need from fruits and vegetables without having to chew. The best part is that they can be prepared ahead of time and refrigerated for later. Watch out for fruits containing seeds. They can get caught between your braces.

Greek Yogurt.

Full of protein and best mixed with a fruit of your choice, a cup of low-sugar greek yogurt is the perfect meal to start your day. Just be sure not to add anything difficult to chew, like granola.

Eggs.

Whether scrambled, sunny side up or an omelet, if you have the time in the morning, eggs are a great braces-friendly option. Spice up your eggs with cheese, salsa or even pieces of diced ham.

Pancakes or Waffles.

Pancakes are made to be light and fluffy. Waffles can be made soft if frozen and cooked in a microwave. What makes either a great morning meal is that they can be topped with sugar and whipped cream to get your tastebuds jumping.

Oatmeal.

It's quick, easy and can give you the energy boost needed to start the day. That's what makes oatmeal one of the best breakfast options for those undergoing orthodontic treatment. Add fruits like bananas or blueberries and brown sugar or cinnamon for flavor and you've got yourself one hearty breakfast.
Orthodontics and Nutrition
While cereal or other hard foods may have been your go-to breakfast meal before getting braces, orthodontic treatment temporarily changes your lifestyle and eating habits – sometimes for the better. Skipping breakfast due to soreness could result in lower energy levels throughout the day and your body not working at its top performance level.
If you have questions about diet and lifestyle changes while in treatment, contact us! Dr. Oana Honey and the staff at Honey Orthodontics are more than willing to suggest solutions that fit your lifestyle. We can also explain how orthodontics can help improve your overall health. Contact our office to schedule an appointment. A better, healthier you could start with orthodontic treatment.